This info pertains to the 2017 expo.  Stay tuned!
Dani Lin, Psychic Medium
& 
Reiki Master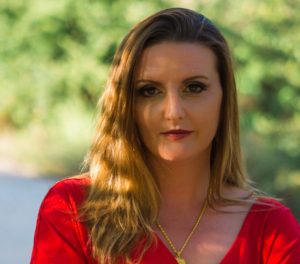 Dani Lin is a renowned Psychic Medium and Reiki Master who does many shows giving readings in Iowa, Arizona, and may soon be doing shows in Las Vegas, Nevada. Her true love is doing private readings and house cleansings which will always be the bulk of her work.
Originally born and raised in Iowa, and living in Iowa City for 11 years (Go Hawkeyes!), Dani has done over 1,500 readings over the course of 8 years in person and by phone professionally, and says that her job never gets old. In 2013, Dani moved to Phoenix, Arizona and her work there has been mainly Mediumship and LOTS of house cleansings.
Dani is a lifelong psychic whose abilities were slowly gaining strength throughout her childhood, then exploded into full Mediumship in 2009 after being diagnosed with Breast Cancer and finishing Chemotherapy. She had no mentor and no classes. Dani states, "I didn't LEARN to be a medium.  It just happened and I couldn't deny it anymore." Dani gets her information from pictures in her head, symbols that mean something specific to her, emotion, and sometimes sentences that she sees in her mind. It is her job to translate this into messages.
Most of Dani's clients will tell you that through no-nonsense and compassionate honesty, her psychic readings are helpful and spot-on. Her mediumship readings can be funny, heartfelt or blunt depending on the spirit she is communicating with as Spirit comes through her emotions and body in a way that Dani will take on the speech patterns and body language of the person who has passed on if they are very strong! People think this is entertaining, but in the end the entire goal is to help people connect with loved ones they have "lost" and to help them heal to a point of living their best lives in honor of themselves and the ones who have gone on.
You can find out more about Dani @
www.danilinpsychicmedium.com
if you are interested in booking a private reading the week leading up to the Expo and she will be available for readings before and after the speaking time slot at her booth.
PRESENTATION 1 PM-2 PM: As Keynote speaker, Dani will be telling stories of working as a Medium, answering questions, and will even do readings for those that attend and volunteer. Please be 18 or older, or have a parent with you for permission.
Unknown Darkness
Unknown Darkness is a Paranormal Investigation Team based out of Cedar Rapids, Iowa. The team consists of Josh Hopkins, Katie Hopkins, Shannon Gorman, Sarah Gorman and Hannah Hopkins. The team has been involved in the paranormal field since 2012, but have been interested and studying the field for much longer. During their investigations, they have many different approaches. Their first goal is not to seek out and find spirits, or "call them out". It is to try and find answers to the claims provided. Whether it is something they cannot explain or something they can explain, their purpose is to find answers. Their main goal is to help people both living and those who have passed on.
Josh got started in the paranormal field when his uncle purchased the building, Edinburgh Manor. Josh asked his uncle if he could go and investigate one night, and during the investigation Josh caught the first ever EVP at Edinburgh Manor. Since then Josh has been intrigued with the "other side", and has kept searching for answers ever since. He has found that the history of the location can help validate evidence and he is an avid researcher of all of the locations the team investigates. One of the spirits that he was first to come across and has ever since had a connection with him, is the infamous Joker at Edinburgh Manor.
Katie got her start in the paranormal field when she worked for the Grout Museum District. She started working there in 2012, but had completed a few internships there prior to that. She obtained her Bachelor's in History from the University of Northern Iowa in 2010. She worked a lot in the Rensselaer Russell House Museum, and became very close with the house and the spirits in it. She would spend hours in the house working and when she thought she was alone, she quickly found out she was not. She would hear footsteps upstairs, glassware moving on the kitchen table outside of her office, and even hear a voice from time to time. Her first investigation was at the Russell House and got the answers she was looking for. Since then, Katie has continued to search for more answers, and also research the locations the team investigates. She enjoys being able to use her historical research knowledge to help the team with researching locations.
Shannon got his start in the paranormal field when he was working on a job in Eldora, IA. Shannon runs a local millwright company and has encountered many paranormal experiences at the feed mill in Eldora, IA. Although this location is not open for investigating to the public, Shannon seems to get a few experiences in while he's working. Shannon has actually caught an apparition on his trail cam at the Eldora feed mill, no one was in the area when he had the trail cam set, and you can clearly see a hat and a man's body.   Shannon joined Unknown Darkness after attending many of the team's events, with his wife Sarah, out at Edinburgh Manor.
Sarah has always been intrigued by the paranormal. She has had many experiences on investigations with the team and even before that. She finds it very exciting to experience the unknown and has a passion for investigating. Sarah is very passionate about helping others, and she uses this in her investigating approach. She can draw in younger spirits with her nurturing side, as a mother of three girls, she puts off an energy to younger spirits to connect with her.
Hannah began investigating in 2012, when her brother Josh investigated Edinburgh Manor. This caught her curiosity and she too wanted to go investigate. She has had multiple experiences with the team, and she is the one who seems to be touched or scratched on investigations. She has had burn marks and scratches on her from Edinburgh Manor.
The team holds events throughout the year at multiple locations where the public can come and learn about being a paranormal investigator and then get hands on experience investigating with the team. They have held events at Harris Haven Funeral Home Haunted House, The Ellis House, Edinburgh Manor, the Buchanan County Home, the Rensselaer Russell House Museum and the Snowden House. They have traveled all over the Midwest and as far as Chattanooga, TN for investigations. Some of the locations they have investigated include: Old South Pittsburg Hospital (South Pittsburg, TN), Sedamsville Rectory (Cincinnati, OH), Villisca Ax Murder House, Missouri State Penitentiary, The Buchanan County Home, Edinburgh Manor, Farrar School, Squirrel Cage Jail, and Bremer County Poor Farm.
The team has appeared on the Travel Channel's Ghost Adventures and Bio Channel's My Ghost Story. They have made multiple radio appearances as well.
They plan to continue their research and investigating for many years to come. That is the one thing about the paranormal field, it is a field where the research is never ending.
PRESENTATION 2:15 PM-3:45 PM: The paranormal field, is it real?  Is it fake?  How do we know?  Millions of people are intrigued by these questions, and there are paranormal investigation teams at every corner trying to find these answers.  We will explore the history of the paranormal, types of hauntings, how you can tell if you're an empath, present our evidence, and more to help people understand more about the "other side."
Project Psi Institute
Dr. Chuck Kennedy has been a ghost hunter since 1971, long before it was fashionable on TV. He spent over 20 years perfecting the process he calls "Forensic EVPs" A process that he used to break open the JFK assassination, mysteries of John Wayne Gacy, The St Valentines day massacre and uncovered the truth behind Butch Cassidy and the Sundance Kid and the Fort Worth connection. He holds a PhD in Neuroscience and has been researching consciousness pre and post mortem for many years. His current program, is Project Psi. where he has brain mapped the neural psychic pathways of over 150 psychics, using EEG technology. He has assembled a team of eight Psychic mediums and 3 Forensic Remote Viewers to find missing persons. In the first 18 months they achieved a 91.3 % success rate in assisting abducted children. He has authored 20 books about his experiences, and has been seen on A&E, The Biography Channel, WGN, and Good Morning Texas.
Bishop Kristina Rake is a life-long psychic medium with extraordinary healing gifts. She has been studying and teaching Theology and scripture, as well as catholic apologetics for 25 years. She has been ensconced in the paranormal her whole life and has been studying the scientific, theological, and biological underpinnings of supernatural giftedness and events her entire life. Her own brain was studied by the professor of neuro psychiatry at Harvard Medical School and she is currently the object of study into healing gifts. She is a member of Mensa and is a wife and mother living in Chicagoland.
She is author of hundreds of articles, textbooks, curricula, and the theological nonfiction book, God and the Paranormal: Ghosts, Mediums and the Afterlife in the Bible.
PRESENTATION 4:00 PM-5:30 PM: The Paranormal Trichotomy: Spirits, Science and Spirituality.
SCI Vs. PSI: Science explains the paranormal.
Dr. Chuck will be discussing his efforts to explain afterlife communication by using EEG technology to map the neural pathways of over 150 mediums as they made a psychic connection. This resulted in identifying the area of the brain that is the "region of PSI."  They monitored over 400 metrics during the evaluation identifying physiological patterns of mediumship.
In another study they looked at the prospects of mediumship as remote viewers to locate and aid missing and abducted children. They then created a process of remote viewing that does NOT require the viewer to have psychic abilities. This is known as FEVR: Forensic Events Viewed Remotely.
Their third study was on The effects and control of clairsentience or Empaths. What it is, how it alters your life and how to control it. From that data they were able to create a "Shields Up" program to give the person active control over receiving energy.
Bishop Kristina Rake will be discussing the paranormal and Christianity.  Many people believe that the paranormal and Christianity are mortal enemies, with Christians attacking a hint of ghosts or spirit communication as anathema and against the dictates of the Bible. So many people think this that most are stunned to learn that the exact opposite is true: the Bible not only holds many examples of communication with the dead, of ghosts, and of other encounters with the dead, but the New Testament ASSUMES a relationship between the living and the dead to be a REQUIREMENT for a Christian. The ancient apostolic church regularly venerated the martyrs and there are many instances recorded of the appearance of holy men and women after their death at the hands of Roman authorities left for us today. Scripture Scholar and professor of Biblical Theology, Bishop Kristina Rake explains the true meaning of the Old Testament verses many people believe ban communication with the dead and explains how judaism anticipated that the messiah would transform the afterlife and how.
You will come away from this talk, not with mere opinions, but with an encyclopedic knowledge of the dead, the afterlife, and our relationship with them as taught by the Old Testament and Jesus Christ himself, who regularly communicated with the dead in the gospels.